Madhya Pradesh is a very beautiful place in India, where you can enjoy almost everything from religious, historical tours to adventure, wildlife century. After the monsoon, the weather here becomes very favorable for traveling. So if you are bored of traveling to beach or mountainous destinations, then you should make a plan here. IRCTC has brought a very great tour package, in which you will get a chance to visit many beautiful places here. So let's know about this package.
Package details-
Package Name- Heritage of Madhya Pradesh
Duration of the package – 5 nights and 6 days
Travel Mode- Train
Destination Covered- Gwalior, Khajuraho, Orchha
You will get this facility-
1 . Train tickets will be available for to and fro.
2 . In this package you will get only breakfast facility. You will have to pay for lunch and dinner yourself.
3 . The facility of AC vehicle will be available for roaming.
4 . In this package you will also get the facility of travel insurance.
There will be so much fee for the journey-
1 . If you travel alone on this trip, you will have to pay Rs 29,050.
2 . Two people will have to pay Rs 15,380 per person.
3 . At the same time, three people will have to pay a fee of Rs 11,560 per person.
4 . For children you have to pay a separate fee. For children in the age group of 5 to 11 years, Rs 8,460 with bed and Rs 7,680 without bed will have to be paid.
IRCTC gave information by tweeting-
IRCTC has shared a tweet giving information about this tour package. In which it is told that if you want to visit the beautiful places of Kerala, then you can take advantage of this wonderful tour package of IRCTC.
Explore the heritage of Madhya Pradesh & explore iconic destinations with IRCTC's train tour package. For details, visit https://t.co/KXO2hDJkWB @AmritMahotsav #AzadiKiRail— IRCTC (@IRCTCofficial) September 20, 2022
You can book like this
You can book for this tour package through the official website of IRCTC. Apart from this, booking can also be done through IRCTC Tourist Facilitation Centre, Zonal Offices and Regional Offices. For more details related to the package, you can visit the IRCTC official website.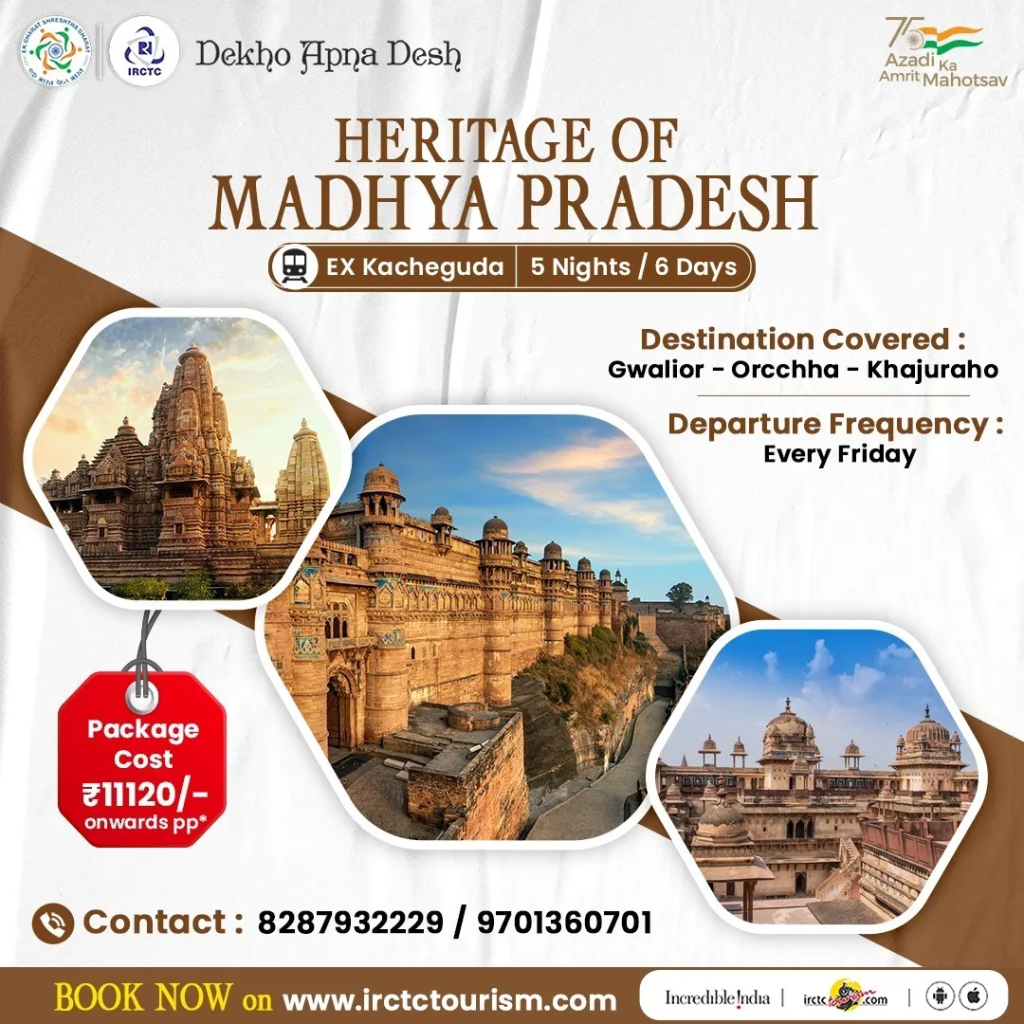 If you want to promote your Tour offer/package on our website, then please share your information, I will add on website OnlineTourGuide.in.