Admit it, we all have secretly wished for a tree house in our childhood. Who wouldn't want to live closer to nature? To wake up in a wooden house, surrounded by scenic natural beauty and fresh air, sounds too dreamy to be true, right? Or just lie down on the wooden floor, sip tea and enjoy some me time?
Finding such a peaceful spot in the hustle-bustle of city life is quite difficult, yet not impossible. So, if you are looking for calm vacations to unwind, then we bring you closer to a similar experience with this curated list of excellent and artistic tree houses across the country.
Tree House Cottages, Manali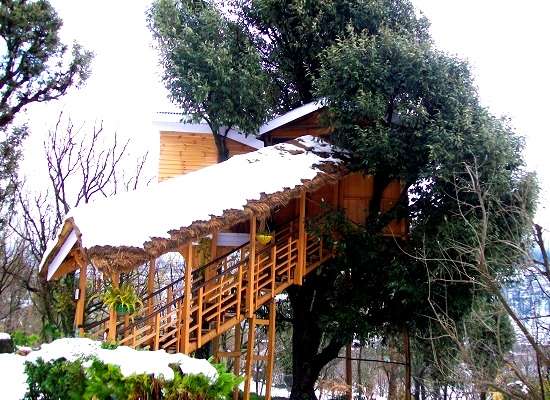 Image credit: tree house cottages Manali
Wish to spend time in the picture perfect mountains, waking up to the chilly winds of Kullu-Manali and enjoying the warmth and serenity of a tree house cottage? If yes, then Manali is the place to be. Away from the clamorous town, these beautiful nests-like tree cottages offer all necessary amenities plus a beautiful retreat in nature. Take your other half to this scenic place, or plan a solo trip – the whispering beauty of hills and nature will mesmerise you and living in a tree house will be the cherry on the top! Confirm your booking in the heavenly paradise now.
Tree House Hideaway, Bandhavgarh
Image credit: tree house hideaway
Situated in the heart of India, we have rich bio diversity national parks and wildlife sanctuary of Bandhavgarh. Now, imagine staying at a tree house in the middle of the national park, living the adventures an explorer with tigers roaring in the backdrop and a perfect wildlife picturesque from your wood cabin. Feel adventuresome? Well, the Tree House Hideaway brings in all the factors of adventure, pleasure, luxury and nature intertwined into the package of the best tree house vacation.
Rainforest Resort, Kerala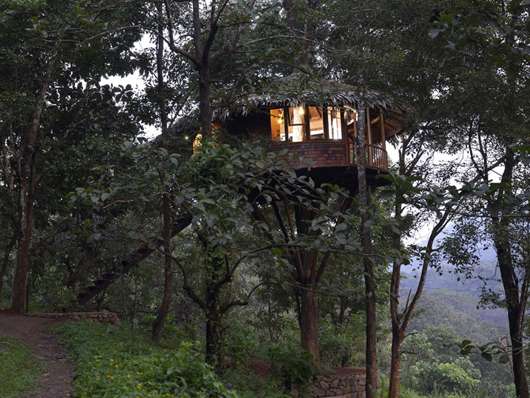 Image credit: Rainforest
Situated at the Athirapally Falls in Kerala, Rainforest Resort is nothing less than a rejuvenating spa-cation. Book yourself a beautiful tree house in the Sholayar rainforest and fall in love with God's own country. With the rumbling and roaring sounds of waterfalls near your tree house, breathe in the freshness and positivity of this beautiful place. Inspired by Swiss architecture, a stay here might seem a bit too pricey but compare it with the values and services offered here; everything seems plausible.
Kaama Kethna Ecological Retreat, Goa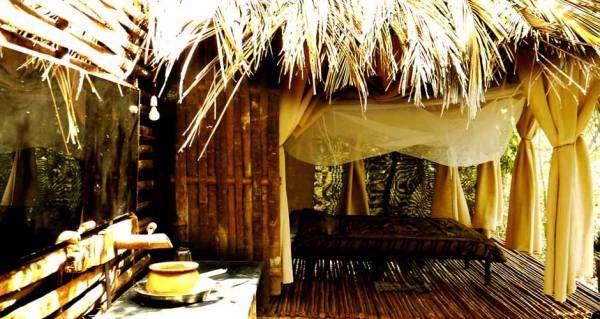 Image credit: Kaama Kethna
Planning to visit Goa soon? This vacation spot is synonymous with night parties and clubbing, but even in the pristine beauty of Goan islands, we have an exclusive retreat location for you. Stay and relax for a while at Kaama Kethna Ecological Retreat, a set of beautiful tree houses set above in the cashew trees offering you a view of the vast ocean and glory of Mother Nature. To flush out the toxins after parties in Goa and to connect with inner self with meditation, Ayurveda treatments, spa, and yoga, visiting this place is a must for you. The ambience will make you fall head over heels, check it out now.
Ah, the beauty of tree houses! Makes one want to leave boring city homes and set abode in the forests, right? So what's stopping you? Plan a vacation and go on adventures to live your childhood fantasies!
Wait; don't be disheartened by the high prices. We also bring you an example of one family that made their dream come true by building their very own tree house in their home. Yes! Why go live in a tree house, when you can make yourself one!
Here's the story of Priyanka Shrivastava and the gorgeous Shrivastava tree house in Noida city.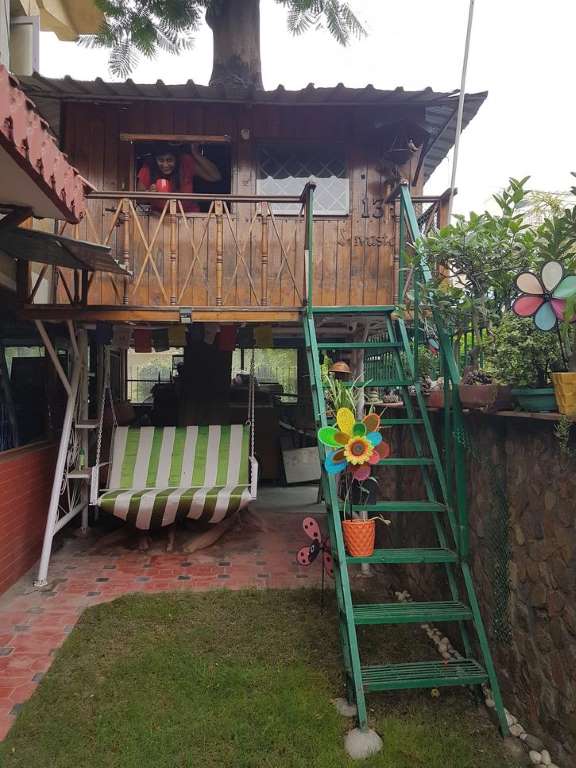 Around eight years ago, Priyanka's husband came up with the idea of creating a peaceful solace in their home. It could have been a separate room, a library or a basement, but instead, they invested around a lakh and made this stunning tree house in their backyard. Putting to use some old fauji boxes and frame of a swing, they designed a tree house over the top of a Gulmohar tree. The aim was to create a peaceful spot in the house for reading and spending alone time amidst the greenery and nature. This creative and exquisite tree house now successfully serves as a dear place for their daughter Saloni to spend her time reading and chilling with her friends.
Hence, the Shrivastava's have proven that those dream tree houses are really not far-fetched ideas.
So, next time whenever you wish to escape into the lap of nature, live a life like a solitary bird above from the noisy world, and the idea of living in a tree house appeals to you, then you can surely visit the places mentioned above or make a tree house of your own!