There is an atmosphere of enthusiasm in the country and the world regarding the new year. People are eagerly waiting for the first day of the new year. This moment is special for everyone. People make huge preparations for this. Some people start the new year with a resolution not to repeat their mistakes. Some people try to make the year 2023 better than other years. However, in the last few years, due to the Corona epidemic, there was a huge impact on the lifestyle of the people. Even at present, the risk of infection with the new variant of Corona remains intact. For this, follow the Corona guidelines even while on vacation or partying at home. Whereas, if you want to enjoy snowfall on New Year, then you can explore these beautiful places. Come, let's know everything about these places-
go to munsiyari
Uttarakhand, the land of gods, is known for its natural beauty. Uttarakhand and Himachal Pradesh situated in the lap of the Himalayas are the center of attraction for tourists. It is bitterly cold in Uttarakhand in winter. Also it snows heavily. If you want to enjoy snowfall on New Year, then you can go to Munsiyari. This major tourist destination is in Pithoragarh district of Uttarakhand. You can reach Munsiyari by road from Nainital. Munsiyari receives heavy snowfall from December to February. For this, you can enjoy snowfall in Munsiyari on New Year.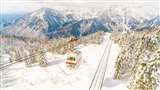 go to tongue
If you want to avoid the crowd, then apart from places like Shimla, Kullu, Manali, Gulmarg etc., you can go to Jibhi. This beautiful tourist destination is in Uttarakhand. The distance from Shimla to Jibhi is 150 kms and from Kullu is 60 kms. A large number of tourists visit Jibbi during summers for trekking and camping. At the same time, due to heavy snowfall in winter, the number of tourists remains less. However, a large number of tourists visit Jiji on New Years to enjoy the snowfall. You can take a trip to Jibbi with your friends.
go to Narkanda
If you want to make the vacation memorable, then you can visit Narkanda to enjoy snowfall and skiing on New Year. The distance from Shimla to Narkanda is 65 kms. The temperature in Narkanda drops very low during winters. The main reason for this is snowfall. Apart from this, very little is known about Narkanda. There is very less crowd for this. You can celebrate the new year peacefully and peacefully.
If you want to promote your Tour offer/package on our website, then please share your information, I will add on website OnlineTourGuide.in.