Panna is considered to be the most backward district of the Bundelkhand region of Madhya Pradesh, but after becoming familiar with this state, you will start forgetting this. You will find yourself in a world which contains thousands of years old antiquity in itself. The district still retains its typical Bundeli culture. Generally, Panna is known by the people due to the diamond mines and tiger reserves. While you will see this place is full of natural beauty. In Panna and the surrounding area, nature has heartily looted its treasure. Many natural waterfalls, kunds, lakes and rainy rivers are found here. If you are a culture lover and are interested in architecture, then in this sense you will get prosperity here.
Actually, Panna city itself has many ancient temples, due to which it is also called the city of temples. The city has been the capital of Maharaja Chhatrasal, known as 'Bundelkhand Keshari'. Just as Chhatrapati Shivaji had troubled Aurangzeb in Maharashtra, similarly Chhatrasal remained unbeatable in all the battles with the Mughals. Chhatrasal's daughter Mastani had a love affair with Peshwa Bajirao I. This love has also been shown by Sanjay Leela Bhansali in his film 'Bajirao-Mastani'.
You can also see the diamond mine
Do you know that Asia has the largest open diamond mine here? Are you connecting the relationship of diamonds only with the city of Surat in Gujarat? Diamond is harvested in Janab, Surat and there is a diamond mine in the Majhngwa region. It is operated by the National Mining Development Corporation (NMDC). You can visit these mines by taking permission from NMDC. On hearing the name of the mine, a big pit appears in our mind, while diamonds in the emerald are only 3-4 feet of shallow mines. Actually, kimberlite rocks are found in abundance around emerald, in which diamonds are found. In places where kimberlite stones are overcrowded, people take a license to excavate a part of the land, then a mere 3-4 feet of excavation is done there, diamond is searched among the stones. Diamond of excellent quality is found here. Old Collectorate Building
This building, known as Mahendra Bhavan, was once the palace of the Panna royal house, which was made an administrative building. It is considered to be the most beautiful collectorate building in Madhya Pradesh. It has now been vacated by the construction of a new building, in the future it is proposed to be a heritage hotel.
Visit Panna Tiger Reserve
Panna has 22nd tiger reserve in India and fifth in Madhya Pradesh. The reserve is located in the Vindhya Range and is spread in the districts of Panna and Chhatarpur to the north of the Rachaya. Panna National Park was created in 1981. It was declared a Project Tiger Reserve by the Government of India in 1994. The feeling of entering here is different. You will be able to feel it only by going here. In the tiger reserve, obviously everyone's eye is fixed on the tiger. You can also check them after waiting. There is also Vatsala, the oldest elephant in the world, who, despite being a child herself, not only helps in the pregnancy of other elephants, but also takes care of their children. . Then on 6 November 2009, the work of completing the challenge of settling the tigers started again. Today there are 54 tigers here. Apart from tigers, leopards, bears, elephants, this national park Apart from sambhar, chital, deer, reindeer, wild boar, wolf, jackal, you can see hundreds of species of birds. There are also Reptile Parks, where you can easily see crocodiles besides crocodiles while sunbathing on the sand of Cane River.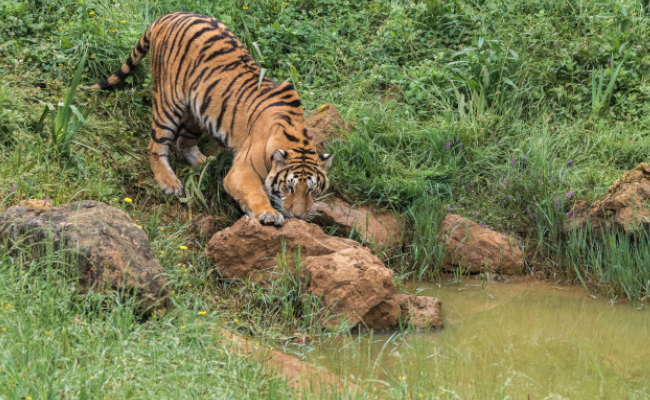 How and when to go
The nearest railway station to Panna is Khajuraho. It is 42 km from the city. Khajuraho is also the nearest airport. This city is connected to the cities of Chhatarpur, Satna, Damoh, Katni, Chitrakoot etc. by road. Tourists avoid visiting here during the summer season. The winter season is considered suitable for a trip here.