India is a country where there is a lot to visit and experience of different food. Tourists can enjoy the beautiful sea beach here, can get acquainted with the historical heritage and can feel the nature close by by visiting the mountains. There is such an opinion about the mountains that no matter the weather, tourists always want to come here and want to experience the high mountains and beautiful plains. Hill station is one of the favorite places of tourists. One such hill station is Nainital.
The beautiful and picturesque view of Nainital attracts tourists to come here again and again. The lakes, beautiful valleys and tall trees give us peace here. It seems to spend holidays here not for a day or two, but for a whole month. Nainital tells a different story in every season, tourists keep coming here throughout the year to experience the same thing. However, whatever be the hill station, its real fun comes only when you get a hotel or resort in the open space. Because if we are going to the mountains and we do not get to see the captivating and beautiful views from the hotel room, then it seems that we are not on the mountains at all.
Cygnett Hotels and Resorts has quickly made a mark in the tourism and hospitality industry. They have hotels and resorts across the country, which are known for their excellent service. His Cygnett Resort Mountain Breeze , located in Jeolikot, Nainital, is quite famous. This resort is very beautiful, as well, the view from here is also mesmerizing. It is equipped with a variety of modern amenities, which include gym, banquet hall, swimming pool, WiFi and minibar. Here you will find all kinds of food items, which are made keeping in mind the taste of domestic and international travelers. They are known for excellent and professional room service. There is no dearth of space in the resort, as it is a huge resort with 60 rooms.
When it comes to hosting corporate events, Cygnett Resort Mountain Breeze offers its guests the best of experience. Their banquet hall is of 2120 square feet, with a capacity of 150 to 180 people. Meetings, launches, seminars, workshops, weddings, anniversaries, private parties etc. are organized here from time to time. This is the only banquet hall in Nainital that offers this facility with such a capacity.
Apart from this, providing the facility of adventure games is also included in the main features of the resort. While staying at this resort, you can enjoy flying fox, rippling, jungle safari and other adventure games. A swimming pool is a great way to relax. Although you will rarely find resorts or hotels in the mountains that provide swimming pool facilities, but you also get this facility at Cygnett Resort .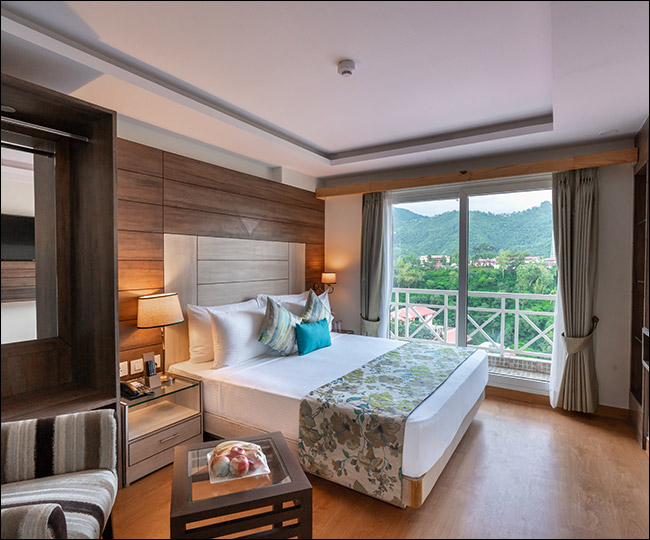 Before starting the journey to the mountains, one should choose the hotel and resort. Because by visiting such places, you spend a lot of time in the hotel as well. You must make sure that your hotel offers you all modern facilities, as well as an attractive view from your room. If you are going to Nainital then you will get all these facilities at Cygnett Resort Mountain Breeze . It is a good place to stay. The resort has expertise in providing superior room service, superior food service and modern amenities.