India is a country surrounded by beautiful sights and scenery to man-made wonders and other structures. From historical monuments to temples, many historical attractions will be found in India. Among the same ancient attractions, there is a temple which is known for its architecture and interesting facts. We are talking about the Badrinath Temple, which is one of the Char Dham pilgrimage sites dedicated to Lord Vishnu. The doors of the temple are going to open from May 8, 2022, so everyone has started preparations to go here. Let us tell you some interesting things related to this Dham.
Badri Vishal, The Berry Tree in Badrinath – Badri Vishal, The Berry Tree in Badrinath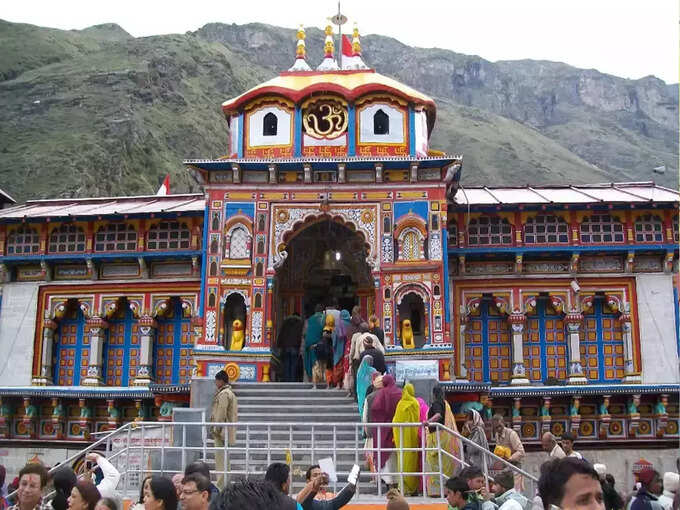 According to a Hindu legend, Lord Vishnu once sat for meditation at this place. The weather here was quite cold during that time, but Goddess Lakshmi protected him in the form of a plum tree. When Lord Vishnu came to know about this, he was impressed by the devotion of Goddess Lakshmi and named the tree as Badri Vishal. Many people from all over the world come to Badrinath and sit under this tree and meditate in search of enlightenment. This is also the place from which this pilgrimage center got its name.
Descendants of Shri Shankaracharya at the Shrine – The High Priest At The Shrine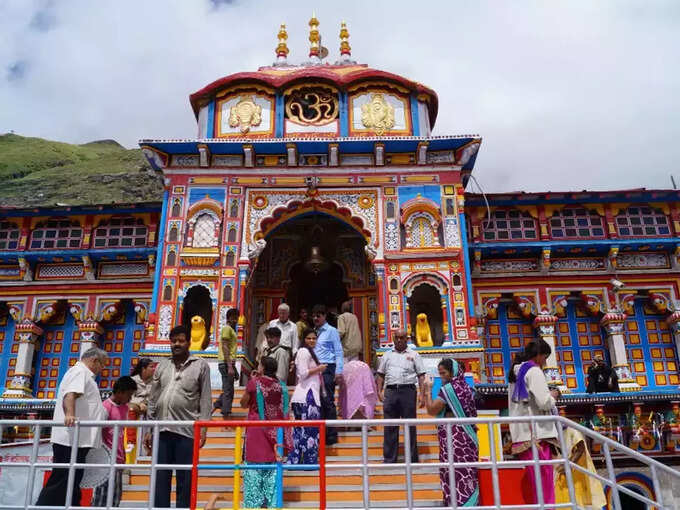 It is said, the Badrinath temple was re-established by Adi Sri Shankaracharya. The High Priest of Badrinath Temple is from the lineage of Adi Sri Shankaracharya. Since they work as priests in the temple, they are not allowed to marry. Even touching a woman is considered a sin.
(Photo Credits: Toi.com)
Tapta Kunda in Badrinath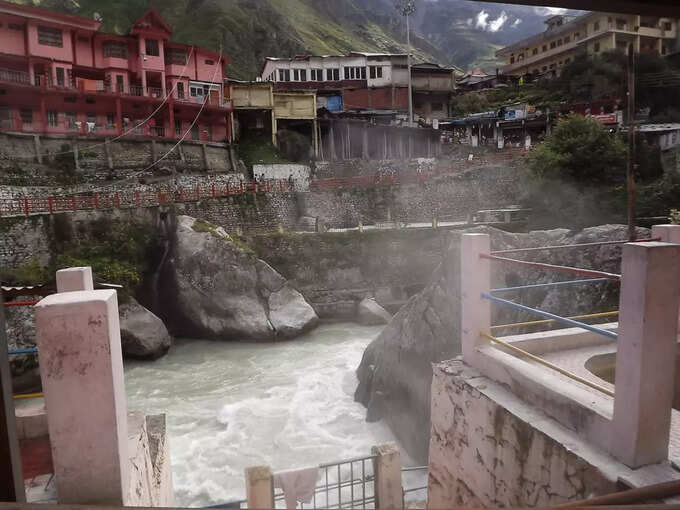 Badrinath temple is surrounded by snow clad mountains from all sides. The temperature of this place remains cool throughout the year, but the Tapt Kund, located a few minutes away from the temple, receives hot water, yes, the Tapt Kund receives hot water throughout the year. It is believed to be the abode of Lord Agnidev. People from all over the world come here to take a dip in the holy pool as it is believed that it cures all the problems of the body.
Places to visit around Badrinath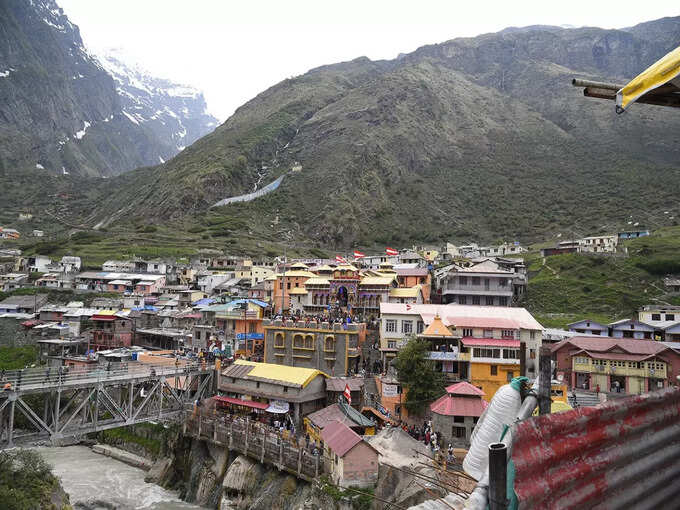 There is a lot to see around Badrinath. After visiting, you can visit places like Niti Ghati, Gorsan Bugyal, Vasudhara Waterfall, Alkapuri Glacier, Satopanth Track, Govindghat, Ghangaria, Valley of Flowers, Hemkund, Joshimath.
The End Of Badrinath – The End Of Badrinath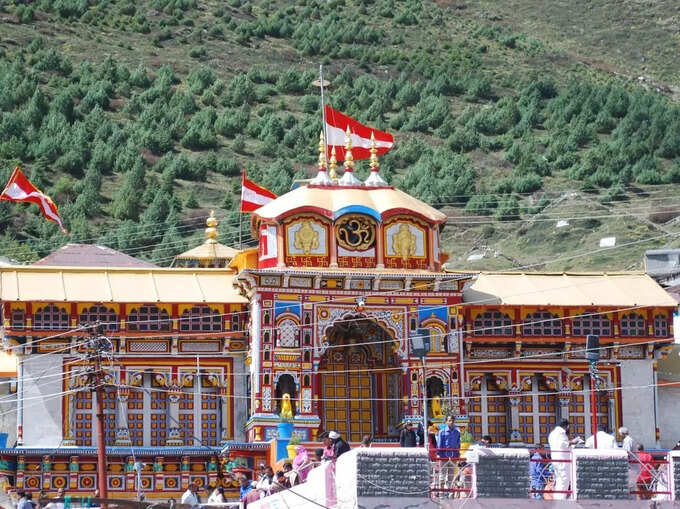 It is believed that the Badrinath temple is closely related to the Narasimha temple of Joshimath. It is believed that one side of the Narasimha temple is getting thinner with the passage of time and the local people believe that the day it will break down, Nar and Narayan Parvat (two such mountains where Krishna and Arjuna visited here before the start of Treta Yuga) Had meditated) will merge and after that the Badrinath temple will not be seen.
How to Reach Badrinath – How to Reach Badrinath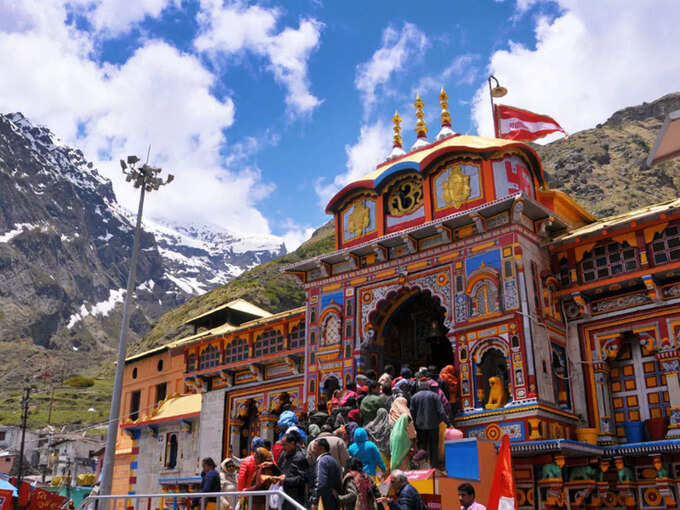 By Air : Jolly Grant Airport is the nearest airport to Badrinath, located at a distance of 314 km. Jolly Grant Airport is well connected to Delhi with regular flights, vehicles can be operated at Badrinath Jolly Grant Airport. Taxis are available from Jolly Grant airport to Badrinath.
By Rail : Rishikesh is the nearest railway station to Badrinath. Rishikesh railway station is located 295 km east of Badrinath on NH58 and is well connected by Indian railway network with major destinations of India. Trains to Rishikesh run frequently and Badrinath can be reached with the help of a vehicle from Rishikesh. Taxis and buses are available to Badrinath from Rishikesh, Srinagar, Rudraprayag, Chamoli, Joshimath and many other destinations.
By Road : Badrinath is well connected by motorable roads with major destinations of the state of Uttarakhand. Buses are available from ISBT Kashmere Gate to Haridwar, Rishikesh and Srinagar. Buses and taxis are easily available to Badrinath from major destinations of Uttarakhand state like Dehradun, Haridwar, Rishikesh, Pauri, Rudraprayag, Karnprayag, Ukhimath, Srinagar, Chamoli etc. Badrinath is connected to Ghaziabad by National Highway 58.
If you want to promote your Tour offer/package on our website, then please share your information, I will add on website OnlineTourGuide.in.